After Barbara Duffy, Tutto Mondo interviews Adele Joel to talk about her career, her love for tap dancing, and improvisation.
1. Photo by courtesy of Adele Joel.
Adele Joel is a professional tap dancer, choreographer, and teacher based in London.
After her training in the UK, she went to America to further improve her techniques. Among others, she studied and performed with Michele Dorrance, Jason Samuels Smith, Heather Cornell, and Derick K Grant.
She is is a founding member of Old Kent Road, a London-based Tap Dance Company directed by Avalon Rathgeb.
In 2015, after studying with Andrew Nemr for many years, Adele Joel was accepted into his company to perform in his 10th Anniversary production of Cat's Paying Dues in New York.
She is a choreographer for Tap Attack, Performing Arts Colleges, and International Shows.
Adele Joel is also a renowned tap teacher and taught at many leading Tap festivals around the world including Stockholm, Berlin, Mallorca, Poland, and the US.
Hi Adele Joel, thank you for the opportunity to take this interview.
What is tap dancing for you and what do you love about it?
«Tap dance is a form of expression. It's a language that everyone can understand even if you don't tap dance because of the music we can make. I love the fact that we are not only dancers, but musicians as well! The journey to become a tap dancer never ends – every day we discover something new! That could be footwork, new music, or exploring the history of how tap dance has evolved».
Which was your favourite show to dance into during your career and why? Any memories you want to share with us?
«A favourite show – wow! What a question! Each performance and show has different emotions and meanings associated with it – this is hard.
I was given the opportunity to be part of the Tap Program at Jacobs Pillow which is an experience I'll never forget ( or stop talking about! ). A highlight for me performing 3 different shows in 3 different areas throughout our time there. This included the famous Ted Shawn Theatre which was beautiful, rustic, and oozing with character. I'm extremely grateful to have had the chance to dance on a stage where so many greats have stepped. Over the 3 week rehearsal period, we created such a strong bond between us and having the chance to share this experience with incredible dancers was breath-taking!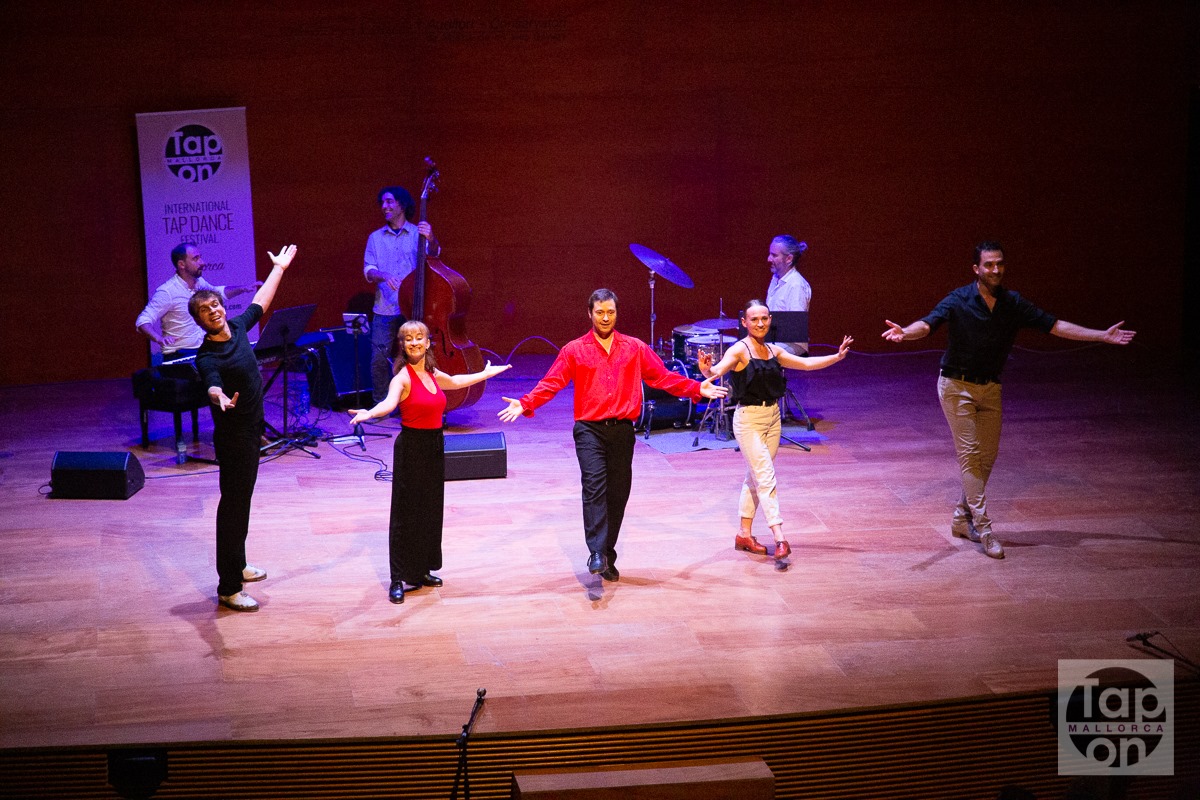 2.  Tap on Mallorca: Adele performing Laura with Daniel Borak, Roser Caminal, Guillem Alonso and Sharon Lavi. Photo by courtesy of Adele Joel.
But performing at tap festivals is always a pleasure! I've had the chance to share with some of my favourite masters and mentors of today such as Josh Hilberman, Dormeshia, Derick K Grant, Michelle Dorrance, Guillem Alonso Alcalay and so many more….. !!
Another but… But, performing with a group of dancers and musicians who I regularly work with brings different emotions. A sense of comfort and relaxation. Dancing with the London-based company, Old Kent Road is always a pleasure. I've had the chance to dance with the Michele Drees band at Glastonbury Music Festival and the Royal Albert Hall.
I was extremely lucky to perform in New York City with Andrew Nemr's Company, Cat's Paying Dues in 2015 with some incredible dancers and musicians! This will always be a special moment in my heart!».
Do you have any favourite tap dancers from yesterday and/or today?
«I believe that every dancer brings inspiration.
Sarah Reich – Powerful, clean, elegant, extremely musical.
Dianne Walker – Smooth, confident, in – control.
Chuck Green – Repeating, distinctive, light.
Dormeshia – Clean, meaningful, powerful.
Ray Winfield – Toes out of Tip Tap and Toe – Those slides! Ekk! Smooth and effortless.
Jimmy Slyde – Storytelling, technically beautiful, soft yet direct».
Adele Joel, you are one of the founding members of Old Kent Road, a tap dance company based in London and directed by Avalon Rathgeb. What are the aims of the company?
«Old Kent Road has been a big part of my tap dance journey. The company creates a safe space for professional tap dancers to share ideas, explore improvisation and create new work with our experiences. It's a supportive group.
Here's a quote from the website which I feel sums up what Avalon wanted to create.
"Old Kent Road is a passionate group of tap dancers who are raising the bar in the UK tap dance scene. Bringing their expertise to the British public and sharing the wonder of the art form, they work together to develop distinctive choreography and pay homage to history and jazz culture along the way" ».
You were part of Oscillate and Fall Out, two Old Kent Road shows that push the boundaries of the tap dance tradition and explore new directions, making tap capable of not only being a concert dance but also being able to be innovative in the dance industry. What is, in your opinion, the winning formula behind the company?
«The winning formula! Supportive, professional and collaboration.
Avalon has created a space in which we can work together. We're all involved with creating new work, we're all involved with our training sessions meaning we change around who teaches the warm-up or exercises each week. We create a new playlist for improvisation every 3 weeks which gives us a chance to train our ears and hear new things. We push each other outside our comfort zones».
3.   Adele with Jason Samuels Smith and Kumagai Kaz. Photo by courtesy of Adele Joel.
You are also a dance teacher with teaching experience in Europe and around the world, for example, at the famous Escola Luthier in Barcelona, where we met last July. What is important, as a teacher, to help students improve their technique?
«Students need a safe space to improve. They need an atmosphere which enables them to grow and be challenged. Taking class should be about taking risks, finding new adventures and having time to process unfamiliar ideas. I like to create a supportive atmosphere… but with a little bit of pressure too. We don't get pushed outside our comfort zone if we're not pressured into taking new pathways!».
What do you suggest to students/dancer who wants to develop their musicality and sense of rhythm? Any advice for Italian Tap dancers?
«Listening to music. It could be any genre but I would always recommend jazz music to get a real understanding of phrasing and musicality. Start by listening for the changing of phrases, what changed? How did they end the phrase? Then you could start counting how many bars are in the phrase and maybe learn the melody of the song note-for-note. Understanding your note values can help with improvisation, learning choreography and creating yourself!
Something Derick K Grant told me was to always have a step for all genres of music, for example, a step that sits well with Latin, a step that's funky. This is a great segue into your improvisation as well as your creative side!
We have the famous London Tap Jam which runs every month and so many dancers never know what to dance to. If you choose one song a month and listen to every single version of this song that would be 12 songs a year that you know in-side-out! That's a great way to help musicality».
Let's talk about Tap improvisation, what do you like about it? Any tips for tap dancers approaching improvisation?
«Improvisation is something that can change daily and that's the beauty of improvisation. Improvisation is a form of expression so whatever your journey is at the time, you can dance. I found improvisation gave me the chance to create my own voice. I was able to put all the classes and workshops I had been attending into something new and personal. The relationship you can create between your feet and music is organic. That's what I love! The adventure you take with a live band is real.
Approaching improvisation can be overwhelming but when someone told me it's like having a conversation I started to relax. Don't be afraid to repeat, don't be afraid to explore new ideas, don't be mad if it doesn't work.
Having 'pocket steps' can help you start your improvisation, using music that you know well. Improvising off the floor is just as important! Find a song you want to dance to, listen to it and dance in your head, sing the rhythms you want to create in your head. This can be a great bridge to take before putting your shoes on and dancing».
4. Adele while teaching in Krakow at the studio My Tap created by Beata Kedzia. Photo courtesy by Adele Joel.
Last but not least important, What are your plans for the future?
«2022 is bringing a new adventure for me over in America. I'm lucky enough to be part of a new production called What Is This Thing Called Love? Choreographed by Derick K Grant and Dormeshia, Produced by Aaron Tolson.
Old Kent Road has plans for a new show plus some exciting adventures to the Caribbean to perform with local musicians.
I'm having the opportunity to perform with a lot of different jazz bands around the UK at the moment which is keeping me busy!
I have some personal adventures I would like to start next year but these are still a work-in-progress.
My biggest goal would be to own a tap studio! A place where the floor is built for tap dancers, a place where musicians can get to know tap dancers, a space to share, teach, create!».
We thank Adele Joel for her time.
For more information about her work, you can visit her Instagram profile, her website, and her facebook page.
Leggi l'intervista in Italiano qui.
Latest posts by Roberto Romani
(see all)