After Elisabetta Ventura, we are back to Barcelona with Rubén Pérez, tap dancer and teacher at the Escola Luthier.
1. Photo by courtesy of Rubén Pérez.
Rubén Pérez "Fruty" is from Madrid and began his studies in 1999 as a dancer at the Carmen Senra school with Tino Roich.
During and after his training in Berlin at the TapaToe school with Cristina Delius and Anina Krüger, Rubén Pérez took classes and workshops with world-renowned tap dancers like, among others, Brenda Bufalino, Sebastian Weber, Josh Hilberman, Guillem Alonso, Roser Font, Roxane Butterfly and Laia Molins.
As a tap dancer, Rubén Pérez has been part of various companies, including Contaptoe in 2002, Barcelona Rhythm Tap in 2008, Trakatap from 2007 to 2014, and Taparpegics from 2010 to 2013. Since 2009, he has been a member of the Tap Olé company with the show Tapeando and as a cover dancer in the show Tap Olé. Since 2014 he is also part of the ExhiBeat company.
He has participated in more than five editions of the Barcelona Tap Festival and has been invited to various festivals around Europe, for example, Tap Ahead Festival in Düsseldorf in 2009 and the XXIV Reus Tap Festival in 2012.
As a tap dance teacher, Rubén Pérez "Fruty" has taught in different schools in Madrid, Berlin, France, and currently in Barcelona.
2. Photo by courtesy of Rubén Pérez.
Hi Rubén Pérez, thank you for the opportunity to take this interview.
What is tap dancing for you and what do you love about it?
«For me, tap dancing is a way of life. From the moment I arrive in the room, when I lace up my shoes, I start dancing, creating, improvising, and expressing myself in ways that cannot be put into words. Tap dance and good education have taken me to places where the money would never have gone. It has made me relate to all three social classes and meet people I would never have met otherwise».
Which was your favourite show to dance into during your career and why? Any memories you want to share with us?
«It is difficult to choose a specific show, Tapeando is in a very special place in my heart. It was the first show with an international tour in which I participated and I have very pleasant memories of that tour of Germany back in 2008. I created very strong ties with my colleagues at that time, now friends.
One of the strangest and funniest memories I have of that tour is when just 10 seconds before going on stage I forgot the whole piece I had to perform. I remember with terror how I went on stage totally blackout. I looked at my partner with the eyes of a deer that is about to be run over but, with the first bar of the music, my body instantly began to move, dancing the choreography independently. It was a strange but comforting feeling».
3. The Cotton Bros, photo by courtesy of Rubén Pérez.
Do you have any favourite tap dancers from yesterday and/or today?
«My favourite tap dancer of all time is Sammy Davis Jr. Multifaceted, charismatic actor, incredible singer, and one of the best tap dancing feet».
You started your tap training in 1999, what do you remember about your beginning?
«Well, at that time I was selling fruit in the market of my neighbourhood. I remember my first day in class. I felt like a fish out of water, far out of my comfort zone. I also remember my first months dancing when I thought it was the first time I was doing something that I was really good at. At that time in tap class, I made some of the best friends I have today».
Rubén, we met for the first time last July in Barcelona, at Escola Luthier. I was immediately drawn by your tap dancing style. Who are the dancers that influenced your personal style?
«Well, my style is the result of different teachers who have influenced my life.
The person who has helped me the most both mentally and professionally has been Cristina Delius. She was the person who gave me the push, discovering me in my early years in Madrid and giving me a scholarship to dance in her dance studio in Berlin together with hers at that time, her partner Anina Krüger.
4. Photo by courtesy of Rubén Pérez.
Later I trained with dancers like Brenda Bufalino, Thomas Marek, Sebastian Weber, Max Pollak, Josh Hilberman, and later in New York with Derick Grant, and Jason Samuels Smith. When I arrived in Barcelona I took classes with Guillem Alonso, Laia Molins, Roser Font, and Roxane Butterfly, as well as getting together and non-stop dancing with the entire Barcelona tap dance community.
As you can see, there are many factors that make my style (like that of every professional dancer) unique».
You use a mix of different musical styles in your classes, from rock to blues, and so on, which brings a great variety of rhythms. When you listen to songs to play during your classes, what do you search for? What makes you choose the right ones?
«I am always on the hunt for music, which makes me listen to music for many hours. I listen to it while I cook, while I walk and to relax at home. That makes the range of music very wide so I don't get bored of always listening to the same musical genre. When I hear a song that I especially like, I write it down and then listen carefully and imagine how I can dance to it or integrate it into my classes».
5. Photo by courtesy of Rubén Pérez.
Rubén, what is important, as a dance teacher, to help students improve their technique?
«Balance. And I am not referring to tightrope walking. I am referring to stability in doing the discipline that you are practising. For many years that question troubled me. Looking at the people I admired, I realized something they all had in common. Balance and stability, the ability to be where you had to be at the right time».
What do you suggest to students/dancer who wants to develop their musicality and sense of rhythm? Any advice for Italian Tap dancers?
«Go and consume art. Go to jazz music concerts, go to tap jam sessions, and learn a bit about music and musical structure. Improvise a lot and create your own choreographies even if it's frustrating at first with time it gets better».
Let's talk about Tap improvisation, what do you like about it? Any tips for tap dancers approaching improvisation?
«What I like most about improvisation is that you don't need to be focused on the steps but on the musicality. It's like a conversation, the rhythms are formed in the head and are interpreted by the feet almost instantly.
The advice I can give is not to focus on trying to do everything at once. Focus on a specific step or rhythm and try to work it with the music. If you have the opportunity to take improvisation classes, they will give you many ideas to work on and, above all, not be ashamed».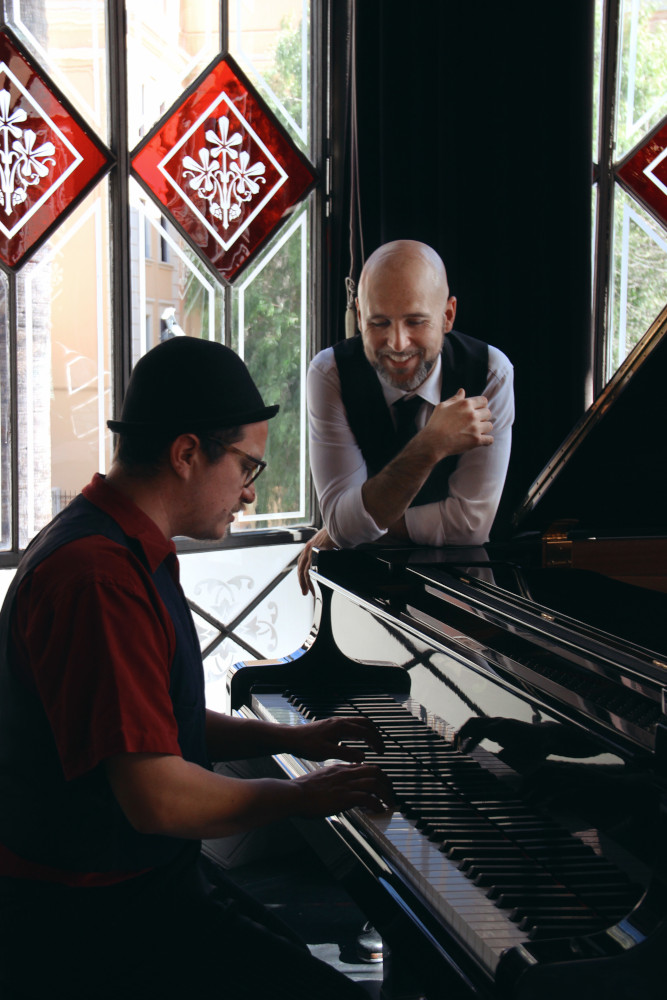 6. The Cotton Bros, photo by courtesy of Rubén Pérez.
Rubén, with the pianist Matias Muñoz, you are part of the Cotton Bros and your upcoming show is set to open on May 30th. Would you like to tell us more about it?
«I wanted to develop a single show for a long time, and fate made me meet Matias Muñoz Parietti who was in a similar situation. Together we have created a piano and tap concert that goes through different atmospheres, from the purest jazz, improvisation, solos, and music from movies that accompany us during one hour of the show».
Last but not least important, What are your plans for the future?
«I am preparing a workshop tour around Europe. We are also starting with Cotton Bros and that has a lot of work, promotion, search for theatres and concert halls, and so on.
At the same time, I'm also working on another project with a colleague that hasn't come to light yet but we're putting a lot of energy and love into it, so stay tuned».
We thank Rubén Pérez for his time.
7. Photo by courtesy of Rubén Pérez.
For more information about his work, you can visit his Instagram profile, his website, and his Facebook page.
For more information about Cotton Bros, you can visit their Instagram profile.
Leggi l'intervista in Italiano qui.
Latest posts by Roberto Romani
(see all)